BIOGRAPHY  |  PRESS


DOWNLOAD EPK  |  DOWNLOAD BIO  |  DOWNLOAD PRESS SHOTS
J BOOGIE'S DUBTRONIC SCIENCE
San Francisco resident and world-renowned DJ/producer J Boogie continues to challenge the boundaries of the music world across genres, styles, languages and borders throughout his 20-year career. This truly unique artist speaks to his listeners through a diverse musical language he created integrating techniques and musical genres including downtempo, dub, hip–hop, soul, reggae, funk, African, Latin, bhangra, dancehall, disco, electro, bass, tropical, dubstep and house. Constantly revolutionizing the game, creating new sounds, and always keeping fans on their feet, J-Boogie continues to lift music to its full potential through his distinct approach and one-of-a-kind style.
He's delivered his masterful mix of culture, soul, rhythm and beats both at home in the Bay Area through his award-winning radio program "Beatsauce" on KUSF, and around the globe spinning DJ sets in countries like Colombia, India, Japan, and Spain. J-Boogie's local success has earned him awards such as "SF's Best Club DJ" by SF Weekly, "SF's Best Radio & Club DJ" by citysearch.com and "Best Hip–Hop Radio Show" by SF Bay Guardian. His global success has earned him acclaim and opportunities worldwide, including spots on radio and television both here and abroad, sportswear sponsorships, and the opportunity to DJ the Tokyo Dome for an NFL football game.
Throughout the years, J-Boogie has also provided musical ecstasy for millions, blowing it up on the festival circuit at Coachella, Bonnaroo, Treasure Island Music Fest, Outside Lands, Lightning in a Bottle, Bumbershoot, SXSW, WMC, Harmony Fest, Earthdance, High Sierra, Sundance Film Fest, The Winter Olympics 2010, Power to the Peaceful and Burning Man. By popular demand, J-Boogie's DJ skills have landed him bookings in world-class clubs such as Turntables on the Hudson, APT, Deep Space NYC, 18th Street Lounge, Halo, Temple Bar, Afro Funke, Root Down, Firecracker, The Do Over and Deep LA. He has also graced the stage on tour with Widespread Panic, Bassnectar and Spearhead, and has opened for legends like George Clinton & Parliament Funkadelic, Mark Farina, Louie Vega, DJ Krush, Kruder & Dorfmeister, Breakestra, RJD2, Herbaliser, and Nickodemus.
J-Boogie's widespread success and longevity in the music industry can be attributed to his exceptional style and ability to constantly revolutionize music. As one of the first DJs to incorporate musicians and vocalists into a live band / DJ fusion set, J-Boogie has truly redefined what it means to be a DJ. With this groundbreaking concept, J-Boogie has created a new realm of live performance and a new type of record. J-Boogie brings this exclusive style to life with his band "Dubtronic Science" in live sets as well as in their self-titled debut album that dropped in 2003, featuring artists like Goapele, Gina Rene, People Under the Stairs, Capitol A and Tony Moses.
For his last album , Soul Vibrations, J-Boogie put together a new "Dubtronic Science" band featuring a horn section, Latin percussionists and MCs. Like its predecessor, J-Boogie's second album features an impressive line up of artists including The Rebirth, Rich Medina, Lyrics Born, Ohmega Watts, Zion I, Crown City Rockers, Jennifer Johns, Deuce Eclipse, Capitol A, The Mamaz, Jazz Mafia, Lunar Heights, Tony Moses and more. He has also created a full Soul Vibrations: Dub Remixes version, dubbing the album into outer space through his studio's analog delays and space echoes.
J-Boogie has also contributed his genius sounds to a wide array of mix tapes, remixes, and albums. He has released remixes for artists such as Widespread Panic, Nickodemus, DJ Vadim, Alice Russell, Miguel Migs, Vieux Farka Toure, Karsh Kale, The Rebirth, Zeph & Azeem, Mark Farina, Zion I, Goapele and Soulstice, and has been featured on Mark Farina's Mushroom Jazz 5 & 6, Om Lounge series, Ubiquity compilations and remix projects. His mix CD series Leftism, In the Mood, Electro Soul and Universal B Breaks have all become collectors' items at music boutiques.
J-Boogie's vast contributions to the music world and his ongoing commitment to his own projects as well as the projects of other artists have allowed him to make fans and friends out of some of the most respected artists in the industry. The game's most esteemed DJs are already buzzing about J-Boogie's newest creation, and always have nothing but the best to say about not only his work, but his character as well.
Festival/Event Highlights:
Coachella • Bonnaroo • Bumbershoot • Outside Lands • High Sierra Music Festival • PEX Treasure Island Music Festival • Power to the Peaceful • Earthdance • Harmony Festival • Lighting in a Bottle • Burning Man • Sundance Film Festival • Sound Wave B.C. •
Winter Olympics 2010 • Giant Step NYE • Turntables on the Hudson • North Beach Jazz Festival • San Jose Jazz Festival • Mushroom Jazz Release Party • Palms Hotel: Hugh Hefner Suite • Best of the Bay Awards • De Young Museum Opening • Stevie Wonder Tribute, SF • Carnival, SF • Nextaid • APT NYC • Cielo NYC • Soul Sessions • Afro Funke • Do Over • Root Down • Om Tokyo • Silent Disco • WMC • CMJ • SXSW
Opening Act Highlights:
Spearhead Tour • Bassnectar Tour • Widespread Panic Tour • Herbaliser Tour • Kruder & Dorfmeister • Afrika Bambaataa • Thievery Corporation • Nickodemus • Parliament/Funkadelic • Alice Russell • DJ Vadim • Breakestra • King Britt • Mark Farina • Pretty Lights • Pimps of Joytime • Louie Vega • Sir Mix-A-Lot • Kurtis Blow • Fort Knox Five • People Under the Stairs • Tony Touch • Lyrics Born • Ohmega Watts • Crown City Rockers • Van Hunt • GZA • DJ Spinna • DJ Krush • Z Trip • RJD2 • Kid Koala • Mr. Scruff • Wajeed • Vikter Duplaix • Garth Trinidad • Miguel Migs • Ron Trent • Collette • Samantha James
Sample Corporate Clients:
NFL • Puma • Banana Republic • Wired Magazine • Sony Playstation • Bloomberg Current TV • Jansport • YouTube • Google • Hotel Vitale • 2K Sports • W Hotel • Microsoft • AT&T • Coors Light • Nokia • HTC • Complex Magazine • Juxtapose Magazine • XLR8R Magazine
DOWLOAD HIGH RESOLUTION PRESS SHOTS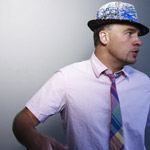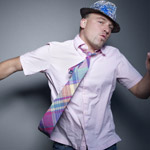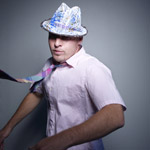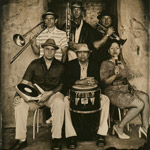 ——————————————————————————————————————————————————————————–

J Boogie's Dubtronic Science: Undercover (Om Records)
The man, the myth, the Kangol. Known for his signature choice of headgear as well as a prolific career which has spanned two decades, San Francisco DJ legend J Boogie is back with Undercover, his fourth album with his live band, J Boogie's Dubtronic Science.
A decade after the first Dubtronic Science album, which fused electronic music with live band sound to create a genre-blending model, the musical landscape has become cluttered with more sub- and microgenres than you can shake a stick at.  Luckily, J Boogie's background as a radio and club DJ in the eclectic SF music scene has afforded him the ability "to roll with any situation and rock it," he says.
Rather than concentrate on a particular style, J Boogie's strength has always been his adaptability; he's created and refined a sound which can travel from the Bay Area to Bollywood to East London to Kingston to Chicago to Mexico City, and back. Live, the Dubtronic sound takes on added value, becoming  a DJ set enhanced by real musicians.
Undercover marks a shift in musical methodology for the veteran producer and club jock. "I started sampling less and started recording live instruments more, and treating the live instruments as samples," he says. "That was a huge move for me. 90% of my material before then was sample-based."
This approach revitalized the Boogie man's creative process, resulting in a true stylistic synthesis: cutting-edge club flavor and retro-electro grooves, layered with freshly-squeezed live elements— among them original basslines, horns, and percussion— expertly yet subtly grafted from funk, soul, reggae/dub and Latin templates. More organic, more uptempo and more dancefloor-oriented than previous albums, call Undercover Dubtronic+.
The album's kick-off track, "Type of Girl," featuring female emcee duo The Mamaz, percolates with an updated electro-hop vibe, punctuated by funky horn blasts. "Undercover," featuring Chrys-Anthony, slaps smooth soul vocals together with in-your-face bass, dub FX, and Latin percussion. "It's on Fire" transports Rock Master Scott to a rave, circa-2012, with help from Lateef the Truthspeaker.  "Go to Work" (featuring The Pimps of Joytime) hints at T.K. Records-era disco funk. The bilingual barrio banger "El Ritmo" (featuring Deuce Eclipse of Bang Data) suggests a scene from a Robert Rodriguez film set in the "Star Wars" cantina. "Blue Mountain Dub" (featuring the Jazz Mafia) mixes echoing piano chords with a loping riddim and a Skatalites-eque trombone solo. A Ska/Afrobeat/Two-step sensibility pervades "No Freedom" (feat. Afrolicious and MC Zulu). "Magik" and "Space and Time" bring J Boogie full circle, featuring guests (Raashan Ahmad and Gina Rene, respectively) who appeared on the first Dubtronic Science album in 2003.
For an album with so many wide-ranging influences, Undercover is surprisingly cohesive. Its strong individual tracks are held together by common elements which weave through the entire album. Easily the producer/DJ's most complete, best work to date, Undercover firmly establishes J Boogie's well-deserved place among Om's legacy artists – including Mark Farina, Miguel Migs, People Under the Stairs, and Soulstice — while introducing him to a new generation of listeners.